De-mineralization Plant
Industries D M Plant With Filteration System
COMMERCIAL D. M. PLANT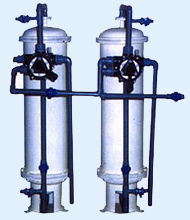 De-mineralization Plant are available in package/standard models or tailor made. The standard plants are ready to use pr-engineered skid mounted for installation or foundations. These plants are provided with various grade of export quality ion exchange resins.
In dual column, Multi Column etc. as per your raw water quality and pure water need.

These system are designed with or without De gasifier tower and using different regeneration system such as co-current, counter current, thorough fare etc. Available in range of 100 ltr./hr. UWG mix bed units are useful as a post treatment to produce IP grade / highly purified water less than 1 TDS.
Usage

Foundries

Food & Beverages

Pharmaceuticals

Plating plants

Paper & Pulp Industry
SOFTENING PLANT
Hard water is the most common problem in domestic as well as in industrial usages.

In domestic, it damages the skin, hair, clothes, utensils, heater/geyser, luxurious bath fittings etc.

In Industrial, it damages boiler, heat exchanger, printing rolls, developing chemicals, cutting oils and much more.

In a softening plant, calcium and magnesium ions - which cause hardness of the water - are exchanged with sodium ions.
Usage

Domestic

Foundries

Dyeing

Laundry

Residential Colony

Pharmaceuticals

Hotel & Hospitals